---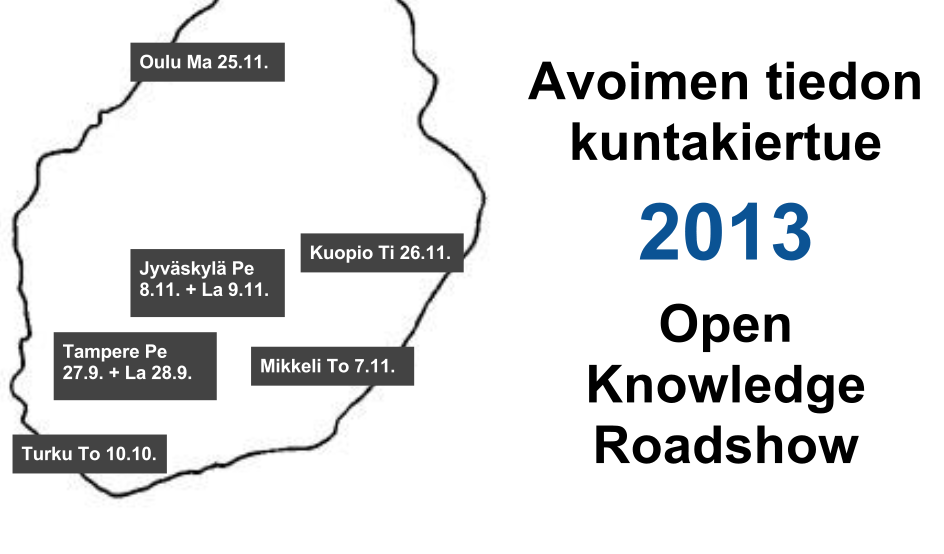 ---
Syksyllä 2013 järjestettävän Avoimen tiedon kuntakiertueen eli Open Knowledge Roadshown kiertueaikataulu on nyt julkaistu. Kiertue koostuu päivän mittaisista tapahtumista kuudessa pääkaupunkiseudun ulkopuolisessa kaupungissa. Tavoitteena on käynnistää ja tukea paikallista avoimeen tietoon liittyvää toimintaa, levittää avoimuuuden toimintatapoja sekä vahvistaa avoimen tiedon verkostoa maanlaajuisesti.
Tampere Pe 27.9. + La 28.9.
Turku To 10.10.
Mikkeli To 7.11.
Jyväskylä Pe 8.11 + La 9.11.
Oulu Ma 25.11.
Kuopio Ti 26.11.
Aikataulu on alustava, mutta päivät kannattaa jo merkitä kalenteriin, niistä pidetään kiinni, ellei aivan erityistä syytä siirroille ilmene. Kiertueen tarkempi valmistelu etenee kaupunkikohtaisesti, sekä yhteistyössä kiertueelle ukaanlähtijöiden kanssa. Lue lisää kiertueen sivulta: https://fi.okfn.org/roadshow/